How Looker Works
Looker has harnessed the power of SQL to create a uniquely powerful data analytics platform that helps companies get real value from their data. Now anyone can ask sophisticated questions of the data using familiar business terms.
Define Metrics Once
Data analysts get knowledge of the data out of their heads and into LookML, Looker's simple yet powerful data modeling language. Define business metrics (e.g. lifetime customer value, conversion rate) and explain how tables relate to each other once, and then let Looker write the right SQL to answer any data explorers' questions.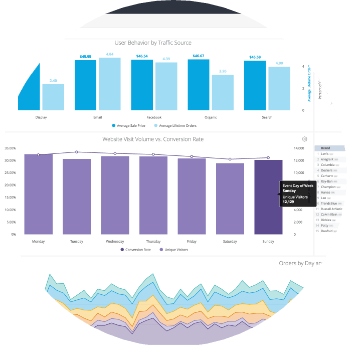 Make Data Beautiful
Visualizations help you tell a complete story with data. Create easy-to-read reports and beautiful dashboards that allow users to drill in and keep exploring. Easily share data-rich visualizations anytime--from any device.
Build a Data Culture
When the whole company has reliable, trustworthy answers--and analysts are no longer a bottleneck--everyone can answer their own questions and make more informed, data-driven decisions.